101 Top Copywriting Tips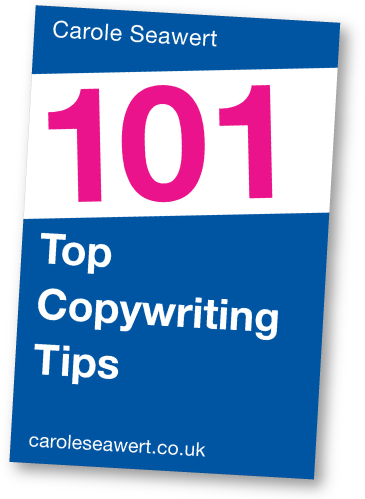 How to turn your writing skills
from bland to brilliant
Learn how to:
Catch the reader's attention
Grasp the building blocks of great copywriting
Craft compelling content
Become a more confident writer
You're just one click away…
Buy it on the Amazon UK Kindle store for just £1.99
(price includes VAT)
Buy it on the Amazon US Kindle Store for just $2.99
Each tip in '101 Top Copywriting Tips' Kindle e-book is a bite-sized nugget of knowledge for you to nibble on and easily digest.
Apply these tips to your writing and you will start to produce riveting words that will grab people's attention and make them want to read on.
Don't have time to plough through a whole self-study book?
101 Top Copywriting Tips is a mini e-book that contains all the essential information you need to master your writing skills.
Praise received for '101 Top Copywriting Tips'
"I love that the tips are ordered in a way that makes complete sense – from briefing, right through to editing. I have to write a lot of briefs and presentations for my job, and will definitely take on board some of the fabulous tips in this guide."
"There are plenty of books on copywriting but few as succinct as this one or as competitively priced. It's perfect for anyone starting in the field and a useful aide-memoire to those of us already in it."
"101 Top Copywriting Tips is excellent – I keep it to hand as my clarity and reality checker. Carole's advice is a really good mix of the general and specific and I'd recommend this to anyone who needs to get a message across with simplicity and impact."
Don't have a Kindle? Download the free Kindle reader from the Amazon store!